In 1891, when the Catholics residing in the area were lacking worship space, Mrs. Easby Smith offered her home in Millersville for the faithful to gather. In 1902, a small frame church was built on land donated by Mrs. Josephine Cecil; and in 1909 the first Mass was celebrated at Woodward Memorial Chapel. Eventually, the Redemptorists, with whom St. Joseph would enjoy a long history with, built a church on Becknell Avenue primarily with discarded materials from Ft. Meade. The first Mass in this new humble parish was celebrated with Fr. Joseph Borgmann on September 28, 1924. A hall named after St. Joseph was also erected on the grounds, which currently serves as the Knights of Columbus Hall. The Holy Name Society, Ladies' Altar Society and a summer camp for children were soon established and by 1946 the number of families had reached 200. Fr. Droxler, Fr. Quinn, Fr. Keenan and Fr. Hurley would subsequently serve as priests at St. Joseph.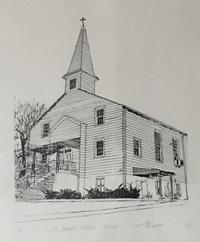 Fr. Otterbein arrived in 1962 and investigated the possibility of building a larger church to accommodate the growing congregation. He was able to locate 9.3 acres on Odenton Road, and in May of that year the Ft. Meade church was relocated to the new location. Currently known as the "Old Church," it is still located at the top of the hill on our current property. The first Mass was celebrated on December 6, 1962. Fr. Otterbein subsequently moved to Odenton and became the first "resident" pastor, enabling daily Mass to be celebrated. Vatican II reforms were begun and religious education was established for the children of the parish. The Archbishop Keough Knights of Columbus Council was also formed.
Fr. Hugh Corrigan arrived at St. Joseph in 1966 and continued to implement Vatican II, adding both a Saturday evening and a "Folk" Mass. The congregation had now reached 500 families and Sunday Masses increased to five in number. A retreat program was also established for the women of the parish. St. Joseph became an independent parish in 1973 and Fr. Corrigan was named pastor with Fr. Kresslein as Associate Pastor, followed shortly by Associate Pastor Fr. Sands, who brought needed leadership to the youth and the senior ministries of the parish.
In the late 1970's, a building fund is started for a brand new, $1.2 million facility. On September 28, 1980, the new church, offices and hall were dedicated by Archbishop William Borders. The RCIA program was implemented by Sr. Mary Lita Friia and Fr. Friel, who was named pastor in 1982. In 1986, parishioner C. Richard Swann was ordained to the permanent diaconate and appointed to serve at St. Joseph parish. Odenton native Fr. Kevin Murray was ordained a Redemptorist priest. Fr. Poux was appointed Associate Pastor in 1982 and established his mark for visiting the ill and homebound. Fr. Harrison was named pastor in 1993 and brought modern technology to the parish, computerizing much of the business and registration information. St. Joseph parish celebrated its 75th Anniversary in 1999. The Redemptorists announced their withdrawal from the parish, citing the declining number of priests available to staff the parishes they serve. Deacon David Page was ordained to the permanent diaconate and assigned to St. Joseph. On July 1, Fr. William Viola of the Archdiocese of Baltimore was assigned as our first diocesan pastor.
In 2000, ground was broken for an expanded church and additional facilities to Corrigan Hall, both of which were completed in 2001. A concert was held to celebrate the renovations and the now over 1,200 families in the parish! In 2004, a new Holy Spirit window was installed over the entrance, followed by several beautiful new stained glass windows in the church and chapel. A further renovation of Corrigan Hall was completed in 2011.
In 2013, the merger of St. Joseph parish and the Church of the Holy Apostles, which had been worshiping at School of the Incarnation, is explored and the official merger of the congregations, staff, and offices occurred in the spring of 2014. With the guidance of our current Pastor, Rev. James Kiesel, along with his pastoral and administrative staff, we continue to grow strong and are pleased to welcome new members each day with joy and hope in our now truly integrated congregation. Our parish is vibrant and healthy, our numbers are growing, and we are so very glad to have you in our midst.
Welcome to St. Joseph!