ONLINE GIVING
For convenience, we offer the option for electronic giving. Under this method you determine from your home computer how much and how often to give . . . no need to go through the parish office. To learn more and start giving under this method, click on the Online Giving icon to the right.
Any difficulties with your account or questions about online giving can be directed to our Business Manager, Debra Harris at
COLLECTION STEWARDS
Collection stewards are responsible for the counting and recording of the weekly collection. If you are interested, please contact
Debra Harris
.
FINANCE COUNCIL
The Finance Committee works with the Pastor and the parish Business Manager in seeing to the financial needs and obligations of the parish. Persons with a finance or accounting background are preferred. The committee is appointed by the Pastor. If interested, please contact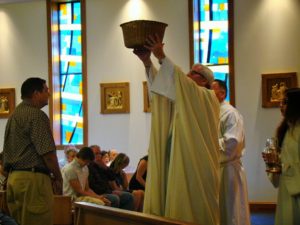 FACILITIES COMMITTEE
This group assists the Facilities Administrator with building and grounds cleanup and maintenance. For more information, please contact
Sam Maruca
.